Pelland Pipe Organ Company, Derry, NH USA

| | |
| --- | --- |
| | Saint Joseph's Catholic Church, Amesbury, Mass. |
Wm. B. D. Simmons built ca.1871, II 17, electrified and enlarged 1965. This organ is being renovated and moved from an unfortunate location under a leaky tower to a prominent location in the choir loft. A new Classic microprocessor control system and some tonal changes are also part of this job.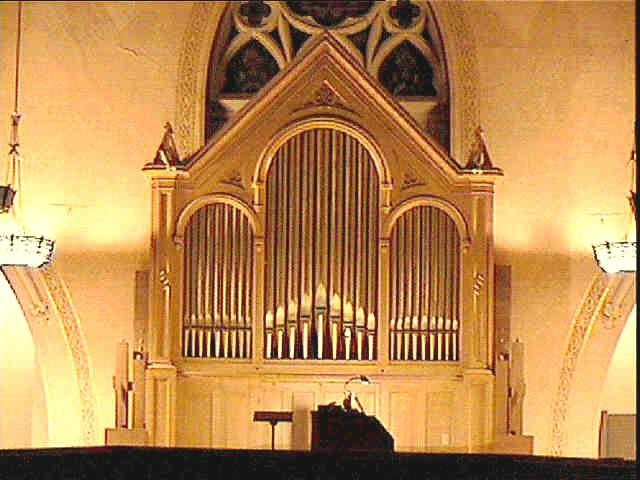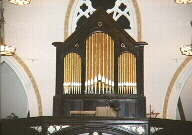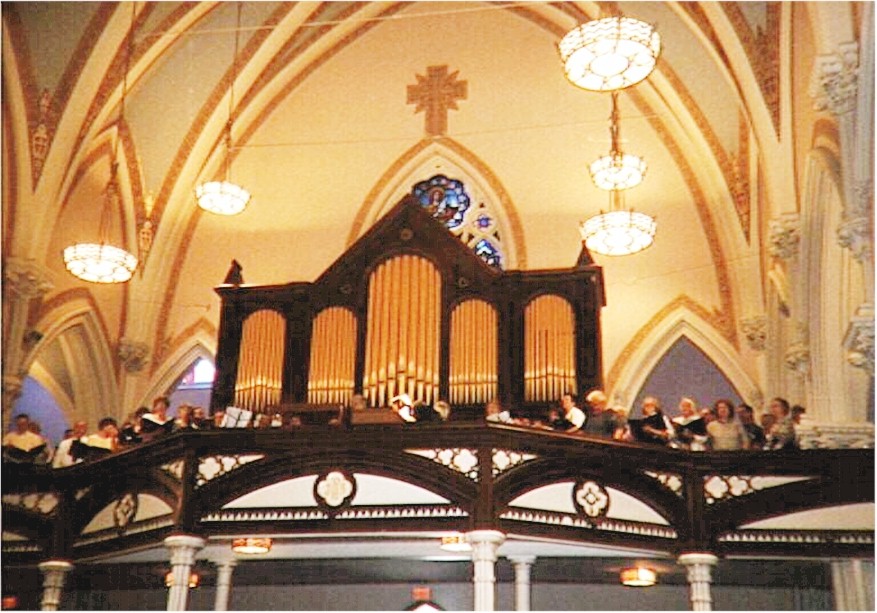 Case painted "mustard yellow" 1965 Restored Simmons case Simmons case extended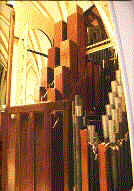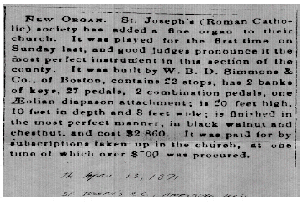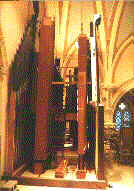 Treble side of interior "Amesbury and Salisbury Villager", April13, 1871 Bass side of interior
via Alan Laufman
The original case was painted a light mustard color in 1965. It is shown here after being refinished and with freshly gilt pipes.
The case has been extended to house the original Simmons layout plus additions while encroaching upon choir space as little as possible. The bass and treble views show the added 16 foot reed and original 16 foot wood Open Diapason. Parishioner and local businessman James Bartley carried out the refinishing and enlargement of the case. Original moldings and designs were duplicated to preserve the Simmons appearance. The case pipes were originally stenciled but the design was considered to be rather ugly and out of place. The original, as well as the sixteen added case pipes were, instead, stripped and have fresh, real gold leaf applied; also by James Bartley.
The original manual chests were replaced in the 1965 re-work with those of Hook & Hastings opus 483 which had been dispersed. These chests appear to have been electrified by H & H in 1929.
| | |
| --- | --- |
| | Saint Paul's Episcopal Church, Malden, Mass. |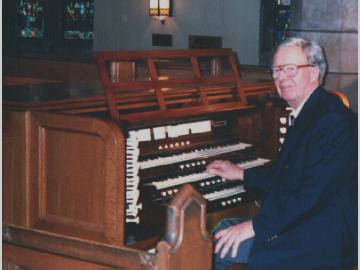 Organist, Robert K. Love at the new console.
W. W. Kimball op 6943, built in 1927 originally for the Circle Theatre, Philadelphia, Penn., III 19, installed in 1954 with several tonal changes to make it more "churchly". This instrument is undergoing a complete renovation including a new console, solid state control system and re-leathering. The original console contained 106 stops from 13 original ranks plus four tuned percussions.

More Recent Work
Our Lady, Star of The Sea Church, Marblehead, Massachusetts
1994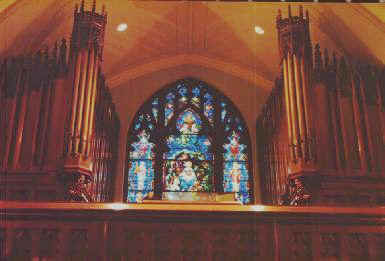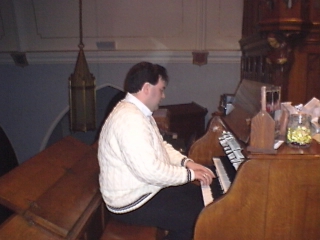 Organist, Mr. Eric Anderson
Info to come...

The First Baptist Church, Medford, Massachusetts
1993
Info to come...

Fairly Recent Work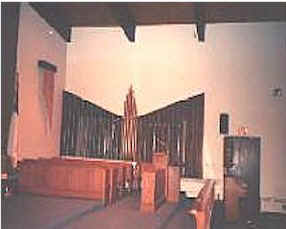 Christ United Methodist Church, Malden, Massachusetts
1990-1995
The archaic term "organs" fits here since the instrument was made from several organs previously installed in several churches. When Christ United Methodist was formed in 1967 from several local church communities, William Laws of Wenham Mass was contracted to "take something of each church's organ to build one fine instrument for the new edifice." The result was somewhat less than "fine" and by 1981 the Swell had to be disconnected because of ciphers and the Great needed to be releathered. We were contracted to take what was left, after a flood wrecked the Swell and smoke from a sanctuary fire damaged the Great, and start over. The Great, of unknown provenance, was re-leathered and cleaned. The Swell, which was a complete Estey 7 rank organ, was so badly damaged that it was discarded. In its place was installed the Swell of E.M. Skinner opus 136. Some tonal changes were made and it now contains 10 ranks. In 1995 the console was completely rebuilt providing all the latest features including MIDI and multiple piston memories. This system is custom designed and built by Classic Organworks of Toronto.
Specification
SWELL
16
Bourdon
Estey opus 1256
8
Gedackt
E. M. Skinner opus 136
8
Salicional
E. M. Skinner opus 136
8
Voix Celeste
E. M. Skinner opus 136
4
Octave
Estey opus 1256
4
Flute Harmonic
E. M. Skinner opus 136
2-2/3
Quint Flute
Estey opus 1256
2
Principal
Estey opus 1256
8
Cornopean
E. M. Skinner opus 136
8
Oboe
E. M. Skinner opus 136
Chimes
Schulmerich
Tremolo
Swell-Swell 16, unison off, 4

| | | | |
| --- | --- | --- | --- |
| | GREAT | | PEDAL |
| 8 | Diapason | 32 | Contra Bourdon (analog generators) |
| 8 | Melodia | 16 | Double Open Diapason (metal) |
| 8 | Gamba | 16 | Bourdon (wood) |
| 8 | Dulciana | 16 | Lieblich Gedackt from Swell |
| 4 | Octave | 8 | Open Diapason from 16' Double |
| 2-2/3 | Twelfth | 8 | Gedackt from Bourdon |
| 2 | Fifteenth | 4 | Octave from 16' Double |
| 8 | Trompette | 32 | Bombarde (analog generator) |
| | Chimes | 16 | Trombone (analog generator) |
| | GREAT | | PEDAL |
| 8 | Diapason | 32 | Contra Bourdon (analog generators) |
| 8 | Melodia | 16 | Double Open Diapason (metal) |
| 8 | Gamba | 16 | Bourdon (wood) |
| 8 | Dulciana | 16 | Lieblich Gedackt from Swell |
| 4 | Octave | 8 | Open Diapason from 16' Double |
| 2-2/3 | Twelfth | 8 | Gedackt from Bourdon |
| 2 | Fifteenth | 4 | Octave from 16' Double |
| 8 | Trompette | 32 | Bombarde (analog generator) |
| | Great-Great 16, unison off, 4 | Great-Pedal 8,4 | |
| | Swell-Great 16, 8, 4 | Swell-Pedal 8,4 | |

Central Congregational Church, Derry, New Hampshire

1992

Info to come...

Last modified: October 28, 2007